Out of stock

Zoom the image with the mouse
SMOK Nord Pod Kit
customers are viewing this product
SMOK Nord Pod Kit
*This Product Ships Via USPS If your Order Contains ONLY Other Non-Vape Related Products*
The SMOK Nord is featured with a built-in 1100mAh battery. making it a powerful pod kit. This button-triggered Nord pod system device has a window design through which you can view the e-liquid level. The pod has 3 mL capacity, which can last all day long for most vapers. The LED batteries' life indicator makes it easy to know the pod's battery life at just a glance. The side-fill feature of the SMOK Nord is very easy to use with both nicotine salt and standard e-juice.
Quick Links:
SMOK Nord Replacement Cartridges
SMOK Nord Replacement Coils
Features and Specifications:
Size: 94×30×18.8mm
Battery Capacity: 11000mAh
Capacity: 3ml
Power Range: 10W-15W
Input Voltage: 3.3v-4.2v
Charging Current:370mA
Charging Voltage: 5V
Standby Current: <100uA
Larger Size; Upgraded Design
Stronger Built-in Battery
Single Button Operation
Improved Mouthpiece
Larger E-Juice Capacity
Various Coil Options
Intelligent Battery Life Indicator
Multiple Protections
Package Includes:
1x Nord Mod
1x Nord Cartridge
1x 0.6ohm Mesh Coil (MTL)
1x 1.4ohm Regular Coil (DL)
1x USB Cable
1x User Manual
SMOK Nord Kit Review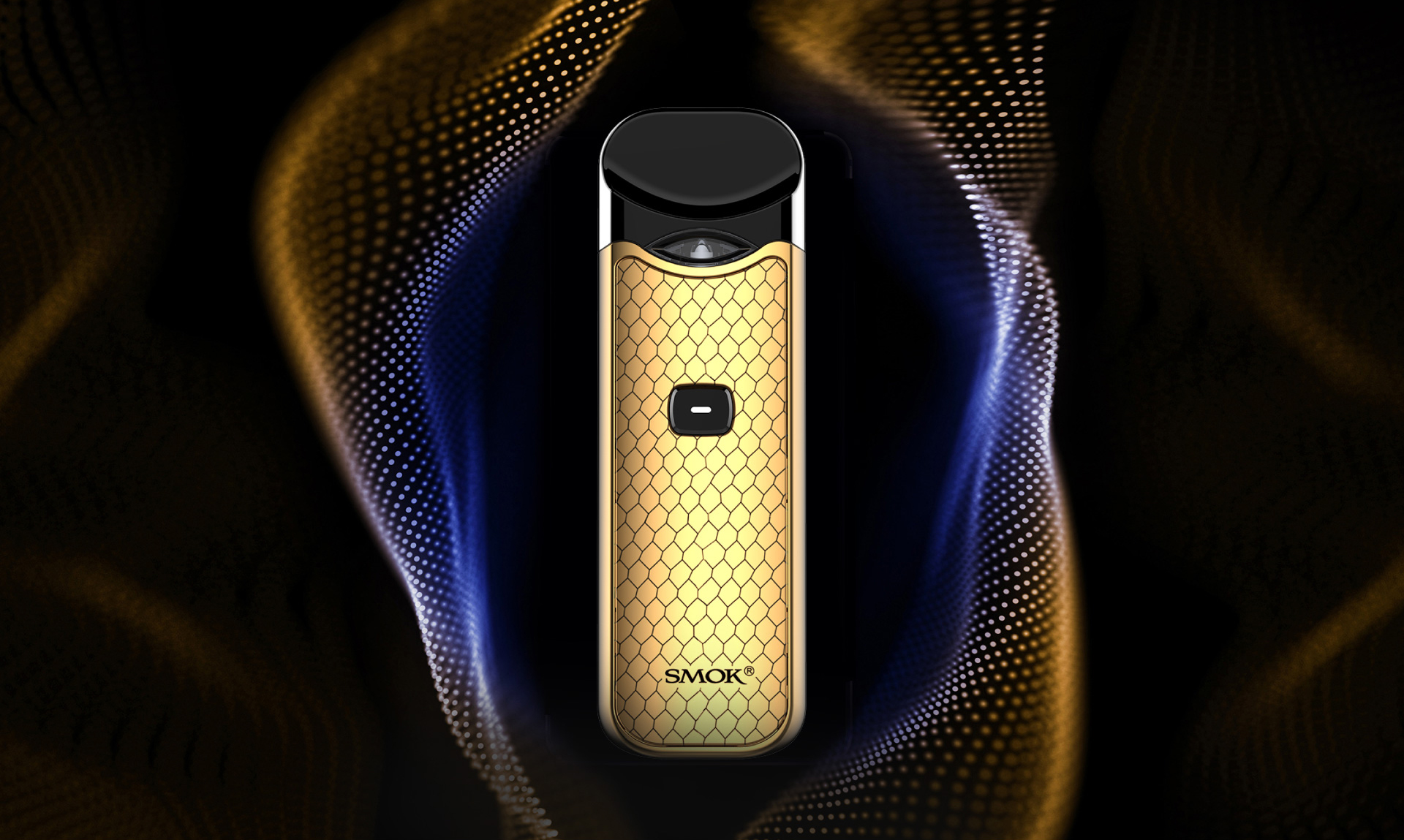 Following their massive success with the Novo pod device, SMOK has released an even more powerful and upgraded pod device called the Nord onto the market. The SMOK Nord is taking the pod vaping world by storm, with it's powerful 1100mAh battery, mesh coil compatibility, and a massive 3ml E-Liquid reservoir, the Nord promises to be an all-day lasting device for your on the go vaping needs. This button operated pod device packs a punch with all of it's fantastic features, here's a few highlights of the technology that's included inside the Nord.
Total Dimensions: 94mm X 30mm X 18.8mm
1100mAh Rechargeable Battery
Wattage Output Range: 10-15W
Voltage Input Range: 3.3-4.2V
Cobra Plated Panels
3mL Capacity
Horizontal Coil Atomizer
Button-Triggered Pod System
Ergonomically Curved Mouthpiece
Protections: 8 Sec. Cut-Off Protection, Short-Circuit Protection, and Low Voltage Warning
Micro-USB Port for Charging the Device
Proprietary Magnetized Connection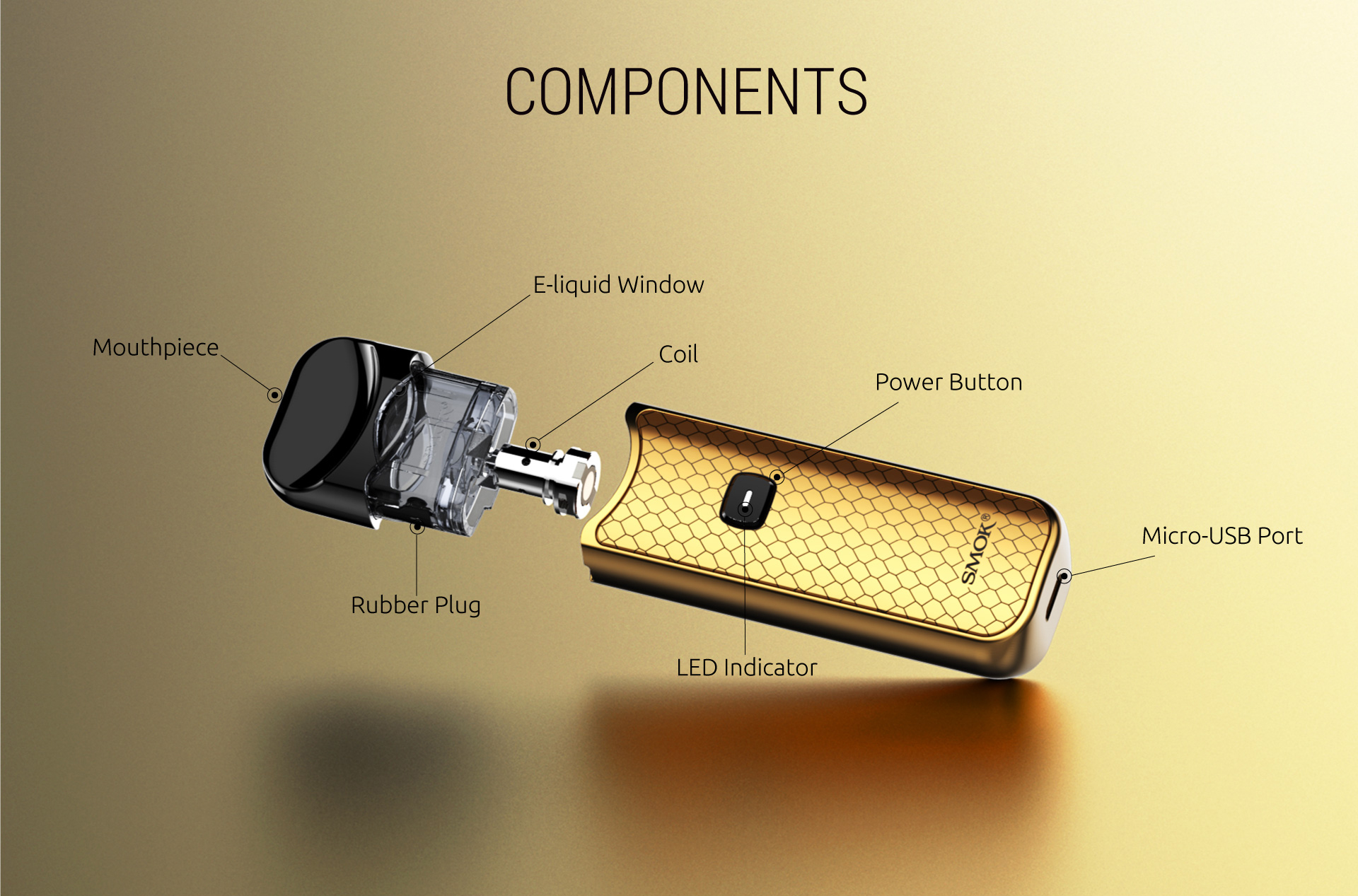 From a design standpoint the SMOK Nord knocks it out of the park, it's sleek and compact chassis features rounded edges with a smooth finish for excellent ergonomics. The Nord was designed by SMOK to go above and beyond what every pod device on the market is capable of, setting a new benchmark in quality that separates the Nord from its competition. It's a button operated pod device, so there's no need to worry about battery drain or auto draw misfiring, simply click the button 5 times to turn it on or off. Additionally, if you click the fire button twice, it will display the current battery life with a colored LED hidden in the fire button.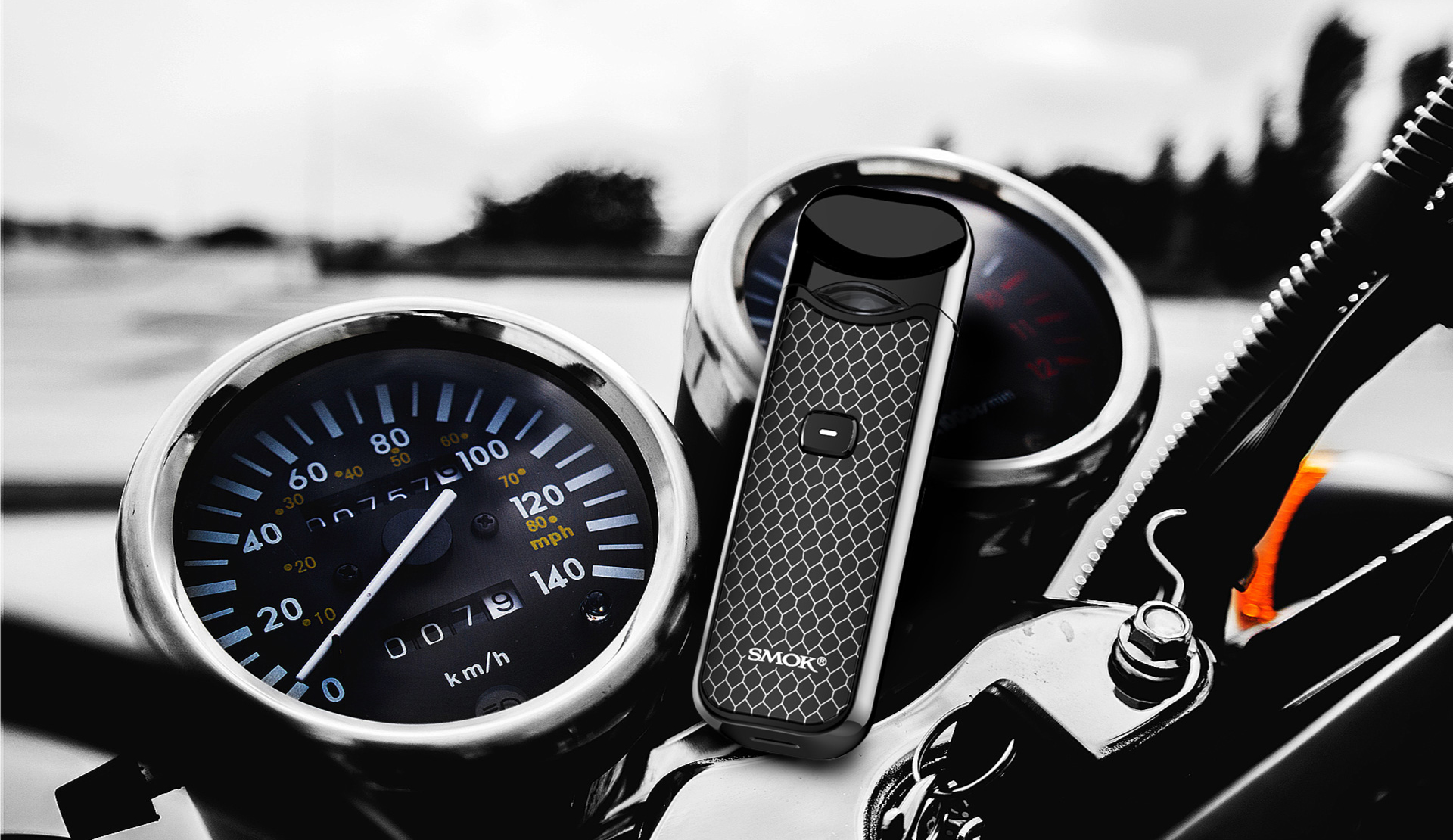 The Nord is available in 6 chic colors and features a cobra skin pattern to give the device a fierce look. An E-Liquid window cut into the top of the chassis shows the level of E-Liquid left in your pod. The mouthpiece on the Nord features a similar duck-billed style as the SMOK Nova, but with a noticeable curve to improve the feel of the device while you're vaping on it.   
One of the first pod devices to include a mesh style coil, the Nord offers users several distinct coil options for different styles of vaping. Each coil is press to fit so no more messy screwing and unscrewing coil heads, just pull the old one out and press the new one in, it's that simple!
Included in the Nord Kit's is the standard 1.4Ohm coil designed specifically to work better with high nicotine E-Liquids. These innovative coils feature a traditional coil structure and are recommended for first time users to get a baseline feel for how the device operates.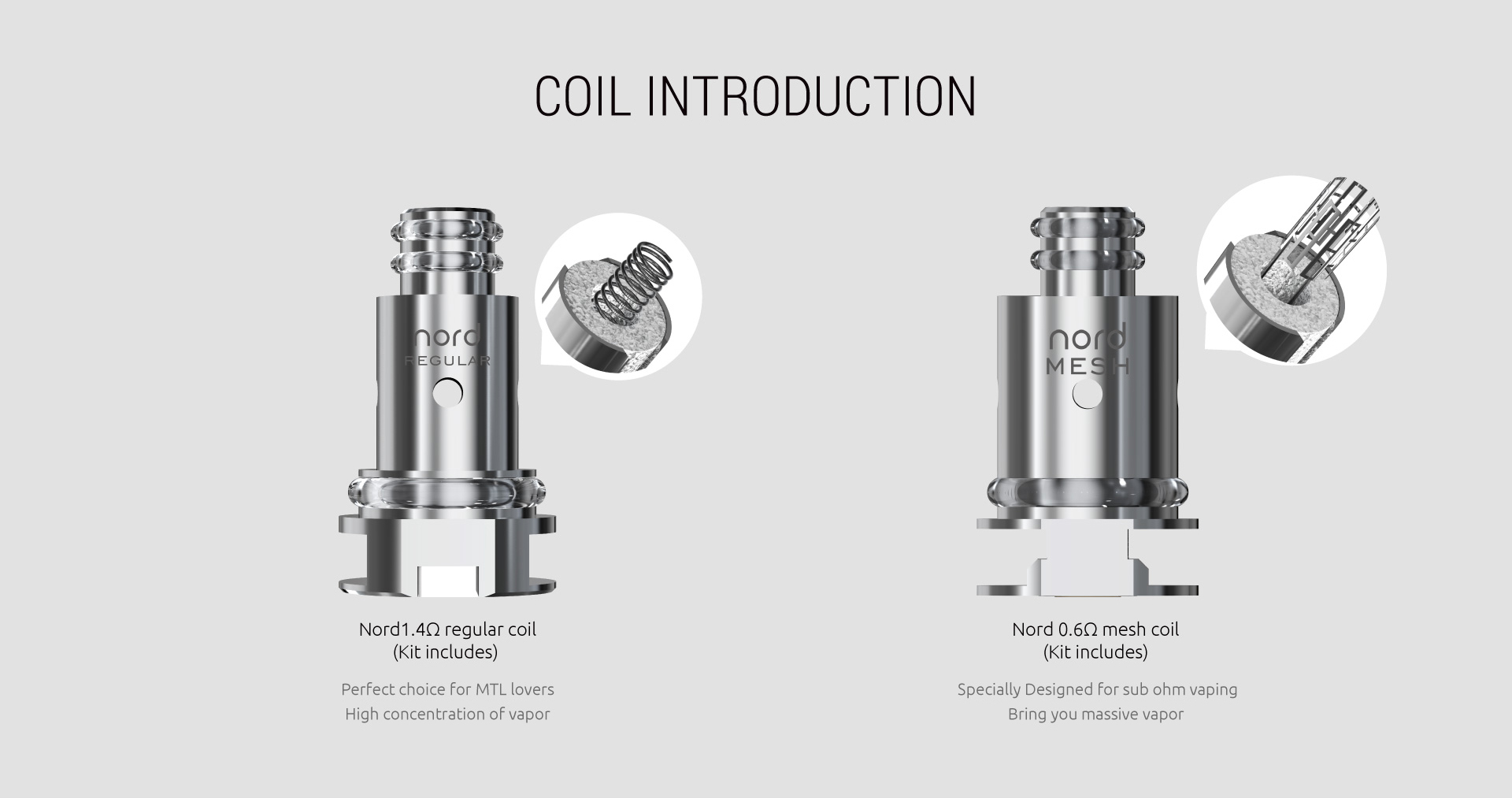 One of the optional Nord coil's, which is designed for use with salt nic E-Liquids, features a ceramic coil head. Making the coil head from ceramic offers a few advantages for the Nord over other pod systems, namely because they're ceramic, these coils are more resistant to high temperatures and typically last a bit longer than standard coils. Featuring a 1.0Ohm resistance, the Nord Ceramic coils are perfect for mouth-to-lung style vaping.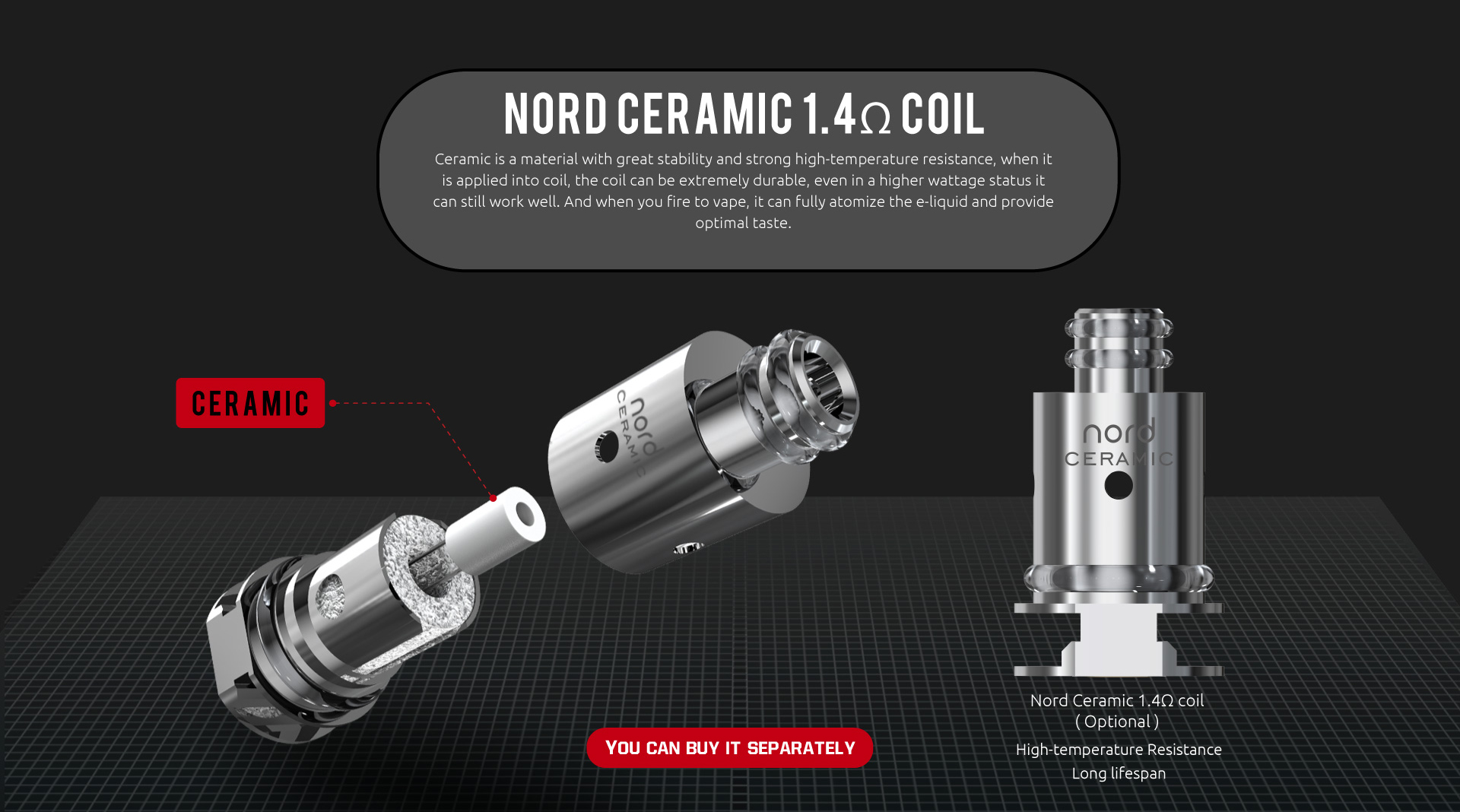 Additionally, the Nord comes with a 0.6Ohm mesh coil which is designed for direct to lung vaping. The mesh coil comes as a welcome surprise, as most pod systems don't allow you to vape 0, 3, and 6MG E-Liquid reasonably. The Nord stands head and shoulders above other pod devices on the market with this fantastic mesh coil. With its 1100mAh battery the Nord can deliver a surprisingly large amount of vapor when utilizing the 0.6Ohm mesh coil. With the addition of a high performance mesh coil, the Nord can double as both a pod device and a direct to lung vaping device, making it the most versatile pod system on the market today.